Turbocharger Repair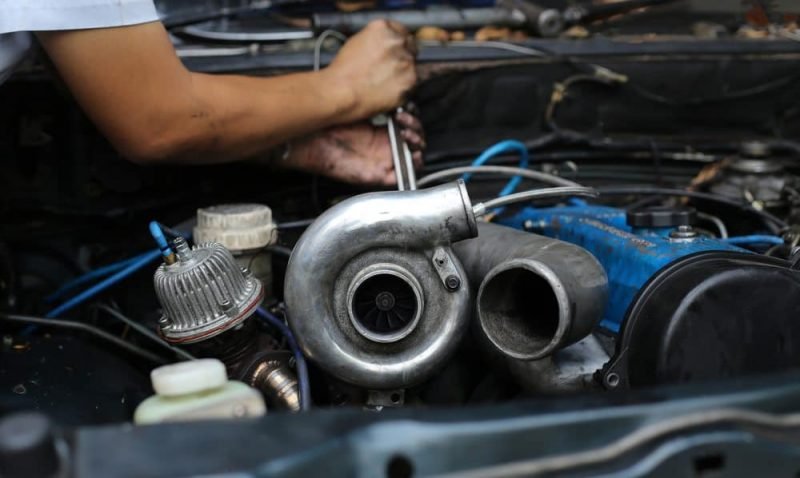 A turbocharger is a forced induction system, which is responsible for bringing air into the combustion chamber of an engine. Turbochargers are powered by a vehicle's exhaust gas. The exhaust gas spins the turbine wheel, one of the components within the turbocharger system, and the turbine wheel spins a compressor wheel. While spinning, the compressor wheel sucks in a large amount of dense, outside air and compresses it. Because the air is high in temperature, it needs to pass through an air cooler. In the cooler, the air lowers in temperature and gains even greater density before it enters the engine. Once in the engine, the compressed air allows more fuel to be added into the cylinder, and the engine burns the fuel more efficiently. In addition to installing turbochargers because they are fuel efficient and produce less CO2, many drivers use these systems to help their vehicles reach higher speeds.
If your turbocharger is acting strange, we invite you to bring it in for repair. Warning signs of impending turbocharger maintenance include a whining sound that grows louder at boost, the smell of burning oil, an excessive amount of smoke, and a noticeable decrease in power. A turbocharger may also be in danger of failing when it doesn't receive enough lubrication, and improper lubrication can lead to carbon buildup. Likewise, small pieces of debris may make their way into the turbocharger and damage its components. If you notice or suspect any of these problems, let us help. Our staff is equipped with the right tools to repair your turbocharger. We will carefully inspect its components, identify the problem, and proceed with the repair process in order to get you back on the road with a fully functioning turbocharger.
All of the Midwest Auto & Diesel Repair technicians are diesel certified and factory-trained and perform their work in our state-of-the-art service facility.
Your vehicle will be serviced and repaired using the latest, most advanced computer diagnostic equipment, tools and techniques to ensure that you are back on the road quickly and in running smoothly. Don't trust your car's care and the safety of your family to anyone else. Taking care of your vehicles is what we do best....and we take pride in knowing that we do our job better than anyone else. We guarantee it.
At Midwest Auto & Diesel Repair our goal is to be your hometown dealership alternative. We are your complete automotive and diesel care center in Wichita, KS. We are a part of this community and we go the extra mile to ensure the people in our community are treated the way we want to be treated.
We install only the highest quality replacement parts because we care about our friends. We want you to know we have an open door policy; we always want to hear from you whether you are happy or unhappy because we only want to do our best for you.
We take pride in our work not only because we care but because our reputation is all we have and we want it to reflect how much we truly care. We have built our life around this amazing community and we always want to do our best; better than you could ever expect because we want you to know although you may walk in our door as a customer you will always leave as a friend. Give us a call at (316) 351-8945 and let us help keep you safely and economically moving down the road.
At Midwest Auto & Diesel Repair, your complete automotive care center in Wichita, KS we install only quality replacement parts. Give us a call and let us help keep you safely and economically on the road. We serve Wichita and the surrounding areas.